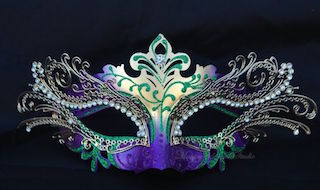 LA MASCHERA DI CERTI MATTI
THE MASK OF SANITY BY HERVEY KLECKLEY
THE ANTI KLECKLEY
KLECKLEY QUIZ
The most important thing about mental illness is it is everywhere yet everywhere unacknowledged.
In the preface to the fifth edition, Kleckley notes that while the patients themsleves almost never are interested in therapy (except for Patch Adams maybe who wasn't really psychotic) the families are desperate. He puts it very, very well and it's worth studying that preface carefully here: it is quite remarkable that we collectively have such a highly developed instinct to deny a reality that is right in front of so so many of our faces day in and day out because we don't know how to deal with it and it is frankly terrifying.

QUOTE FROM PREFACE TO 1988 EDITION
Although I spared no effort to make it plain that I did not have an effective therapy to offer, the earlier editions of this book led to contact with psychopaths of every type and from almost every section of the United States and Canada. Interest in the problem was almost never manifested by the patients themselves. The interest was desperate, however, among families, parents, wives, husbands, brothers, who had struggled long and helplessly with a major disaster for which they found not only no cure and no social, medical, or legal facility for handling, but also no full or frank recognition that a reality so obvious existed. Telephone calls from Chicago, Denver, Boston, and The West Indies and letters from Miami and Vancouver have convinced me that the psychopath is no rarity in any North American community but that his problem is, by what seems to be an almost universal conspiracy of evasion, ignored by those therapeutic forces in the human group that, reacting to what is biologically or socially morbid, have sensibly provided courts, operating rooms, tuberculosis sanatoriums, prisons, fire departments, psychiatric hospitals, police forces, and homes for the orphaned, the ill, the psychotic, and the infirm. The measures taken by the community to deal with illness, crime, failure, contagion are, one might say, often far from perfect. It cannot, however, be said, except about the problems of the psychopath, that no measure at all is taken, that nothing exists specifically designed to meet a major and obvious pathologic situation. Communications from physicians, sociologists, psychologists, students, and others from Europe, some from countries behind the Iron Curtain, and also from India, Australia, and other distant parts of the world continue to arrive. One interesting, stimulating and deeply appreciated comment came a few years ago from a physician stationed in Antarctica. These communications convince me that the psychopath presents an important and challenging enigma for which no adequate solution has yet been found.