OUR MISSION FOR A MARTYR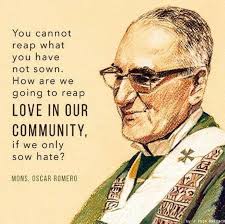 .
TRAILER OF ROMERO MOVIE
In the tragic aftermath of World War II, the United States was involved in many attempts to prevent the spread of ideological communism.

Many people died on both sides, immeasurable human energy and resources were spent on questionable methods, and the world was plunged into sadness and despair.

This is not a political argument, we only point out that oftentimes "the best laid plans of mice and men gang aft agley" as the poet said. And that is when the plans are well laid--if they are not, the outcome is often worse.

Oscar Romero murio para su pais, El Salvador. El Salvador sigue con sufrimiento, con droga, con violencia. Su gente sigue muriendo.

Sembremos un poco de amor en memoria de Romero.